2018 STUDENT Summer Arts Camp
July 10th - 13th 10:00 am - 2:00 pm daily
Offered to Middle School and HS students.
This 4 day 4hr a day camp will focus on 'Fine Art' instruction…including – Drawing skills, Color theory, composition, as well as a review of the various styles or art in history including realism, impressionism, expressionism, abstract, conceptual and modern art. A GREAT ART experience!!!!
Projects will include drawing and still life painting, a 16x20' landscape paint along, ABSTRACT WORK as well as one project of the students choice – time permitting.
$150.00 per student pre-registration is required
Please call 631-219-7107 to register
FALL FIRE ISLAND RETREAT Sept. 2018
dates to be announced!
Immerse yourself in art while enjoying the beautiful views of Fire Island, New York.
Our group will enjoy spending 4 days and 3 nights at a beautiful Davis Park beach house. A daily schedule of art and community will be provided. All meals included. BYO adult refreshments.
Please join me as I instruct you in a beach house inpired still life painting, pleinare preparation and paint along, pleinare painting, group abstract collaboration, and much more!!!! Daily guided meditation included.
Select works created during our stay will then be exhibited in September at a local show.
Please contact me for durther details.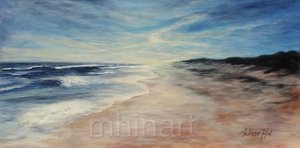 Weekly ADULT Instructional Painting Sessions...For beginner and experienced artist alike...
Benefit from a group studio setting where you will progress quickly with both individual instruction and group interaction... at an affordable rate. Class fee varies for set sites.
TUESDAY eve 6:30-8:30 .. OFF SITE /Bellport ny ...MDH Creative Ent of Miller Place NY
WEDNESDAY 10-12, 1-3, 3:30 - 5:30pm . MDH CREATIVE ENTERPRISES of Miller Place NY
THURSDAY nights are 'PAINT NIGHTS' -Paint n Sip events .. OPEN TO THE PUBLIC- check schedule FOR PAINT NIGHT , PURCHASE TICKETS - ON LINE ...
CALL TO BOOK YOUR PRIVATE EVENT 631-219-7107

Private instruction available upon request. Youth classes available
Call 631-219-7107 for more info. Or to join!!
You can also contact me thru this website.
PAINTING NIGHTS VIDEO!!!! WATCH AND SEE WHAT IT IS ALL ABOUT!
CALL TODAY TO ENROLL IN OUR NEXT PAINTING FOR PLEASURE CLASS!
Kick back, Relax and let your creative spirit shine!!! Create your own masterpiece with a group of your friends....I will instruct you in the painting process until you all reach a completed painting. A BYOB and Wine event offered at 2 sites. Call 631-219-7107 to book a private party or corporate event!!! You can also contact me thru this website.
__________________________________________________________________________